The 11 More Courses You Cannot Get a Tee Time At
Reading Time: 5 minutes Some of the world's most exclusive golf courses lie in this article
Reading Time:
5
minutes
The Pine Valley's, Cypress Point's, and Winged Foot's of the world are very private, and although they are difficult to get on, chances are, you know someone (or someone you know someone) who has played a golf course in the top 20 in the country. However, the fact is, these courses do not rank amongst the most exclusive golf courses in the country. In fact, the ones that are so exclusive are the ones that no one has heard of, some with only one member, others with no official tee times, maybe without an official website, phone or even an address. This list has it all.
As mentioned in the first edition of the series (which you can read here), this is the second of a three part article. Think we missed one? Let us know in the comments, or perhaps it is coming in the third article.
Without further ado, The 11 More Courses You Cannot Get a Tee Time At
---
Anne Arundel Manor — Harwood, Maryland
Albert Lord, chairman of Sallie Mae, put up a rumoured $30 million to build Anne Arundel Manor course for himself. Like most courses in this series, little is actually known about the golf course, but we know that Arthur Hills built both a Biarritz, and a three-hole-wide fairway.
Cow Neck Preserve — Southampton, New York
You would think National Golf Links of America or Shinnecock Hills, both usual suspect in America's Top 10 Golf Courses, would make such lists, yet it is a small, private golf course that wears the crown for the Hamptons most exclusive golf course. Cow Neck Preserve is the vision of billionaire Louis Bacon, who built 11 holes on 540 acres of Conservation Land in North America's best golf ZIP code.
Sunnylands — Rancho Mirage, California
During the post-World War Two era of golf design, two of the main architects were Robert Trent Jones Sr. and Dick Wilson, who had a fierce rivalry. One of Dick Wilson's only west coast courses is at Sunnylands in the Coachella Valley. How does one play Sunnylands? Becoming the President of the United States is a good start; every US President since Eisenhower has clocked at least one round here (other than Jimmy Carter, who did not play golf). Being president seems too far-fetched? Perhaps a US Ambassador, or even a member of the President's cabinet. Either way, Sunnylands is reserved for only high-end officials in the United States government, and without that distinction, the chances of playing Sunnylands are slim-to-none.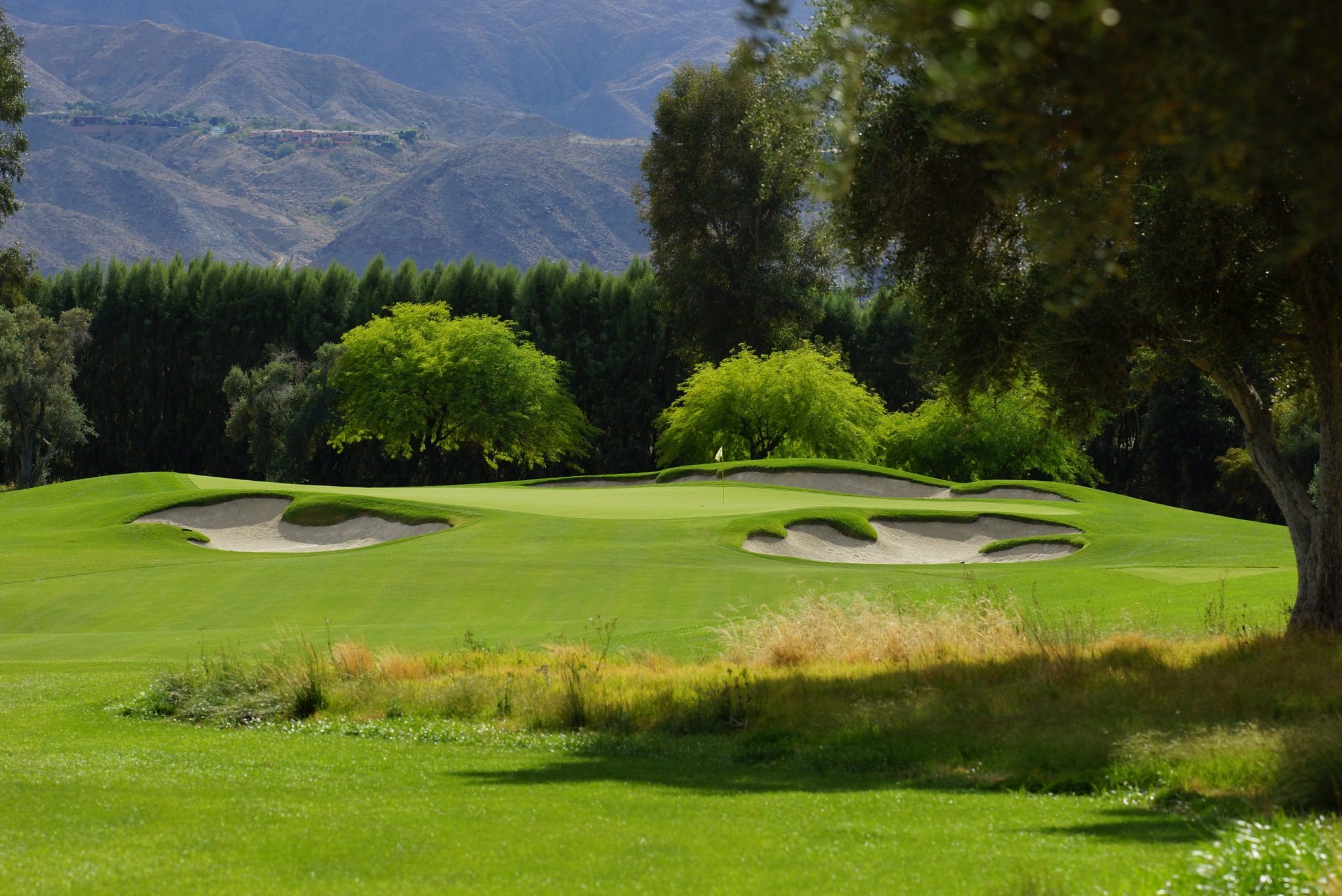 Mount Bruno Country Club — Saint-Bruno-de-Montarville, Quebec
What makes Mount Bruno, one of Canada's best golf courses, so exclusive? A small membership mixed with no unaccompanied play is a recipe for a difficult tee time to get. Those who get the invite enjoy the rules of yesteryear, like mandatory blazers in the clubhouse for dinner, and pants/long socks while playing golf (no showing calves here!). Regardless, this Willie Park Jr. golf course is a step back in time, and features some of Canada's most fascinating green complexes.
The Round Hill Club — Greenwich, Connecticut
Greenwich is a notoriously wealthy area, especially for those wanting to escape nearby New York City's busy vibe. Naturally, with rich areas brings exclusive golf courses, and the most exclusive in Connecticut is The Round Hill Club. Roughly 12,000 rounds a year are said to be played on this Walter Travis design, many of those accredited to CEO's of Fortune 500 companies and high-level Hedge Fund managers. Looking to join Round Hill? You must buy property in the swanky community.
Wolf Point Ranch — Port Lavaca, Texas
Mike Nuzzo's architecture is a focal point of praise in Texas, with Golf Magazine rating it in the Top 100 in the US in 2020/2021, and Tom Doak claiming Wolf Point has the "best set of greens in Texas." The Peed Family, owners of The Dormie Netwok, recently acquired Wolf Point Ranch, although they continue to maintain its very exclusive nature.
Pepper Pike Club — Pepper Pike, Ohio
In a golf-rich city like Cleveland, with heavy-hitters like The Country Club, Canterbury and Kirtland, the most exclusive golf course is neither of the so-called big-names. Instead, Pepper Pike Club, a William Flynn design in the east suburbs, holds the title. In similar fashion to Augusta National, the main factor in why Pepper Pike is difficult to play is because you cannot ask a member to host, they must ask you to play. It is said that Pepper Pike and Augusta National share a rumoured 7 members.
Congaree — Ridgeland, South Carolina
How do you make a private club much more exclusive than its contemporaries? Cap the membership to two—the founders—and let the rest be "ambassadors," with less privileges than a member, and only invited through referrals. This low-country Tom & Logan Fazio golf course is akin to the Melbourne sandbelt, and in recent years, has received more press for hosting the PGA Tour's Palmetto Championship.
Deepdale Golf Club — Manhasset, New York
A website as old as Deepdale's is a perfect reflection of this old money club on Long Island. Why would a club as selective and secluded as Deepdale need anything more than that? The course is a popular place for Manhattan CEO's and billionaires to escape the city's hustle given its close proximity to New York City.
Sanctuary — Sedalia, Colorado
RE/MAX chairman and co-founder Dave Liniger brought Jim Engh out to Colorado to open a private golf club for him and his friends in 1996. The result? A typical Jim Engh design in the beautiful landscapes of Colorado. Those who experience the golf course will see pristine conditioning as the club purposefully limits rounds to 9,000 a year, with the revenue generated from guest fees donated to charity.
Augusta National Golf Club — Augusta, Georgia
Of any golf course on the top 100 list, Augusta National is the most difficult to access due to its small, exclusive membership mostly maid up of America's elite. Interestingly, this Alister Mackenzie design is likely the world's most famous golf course, yet remains one of the most exclusive on the planet.